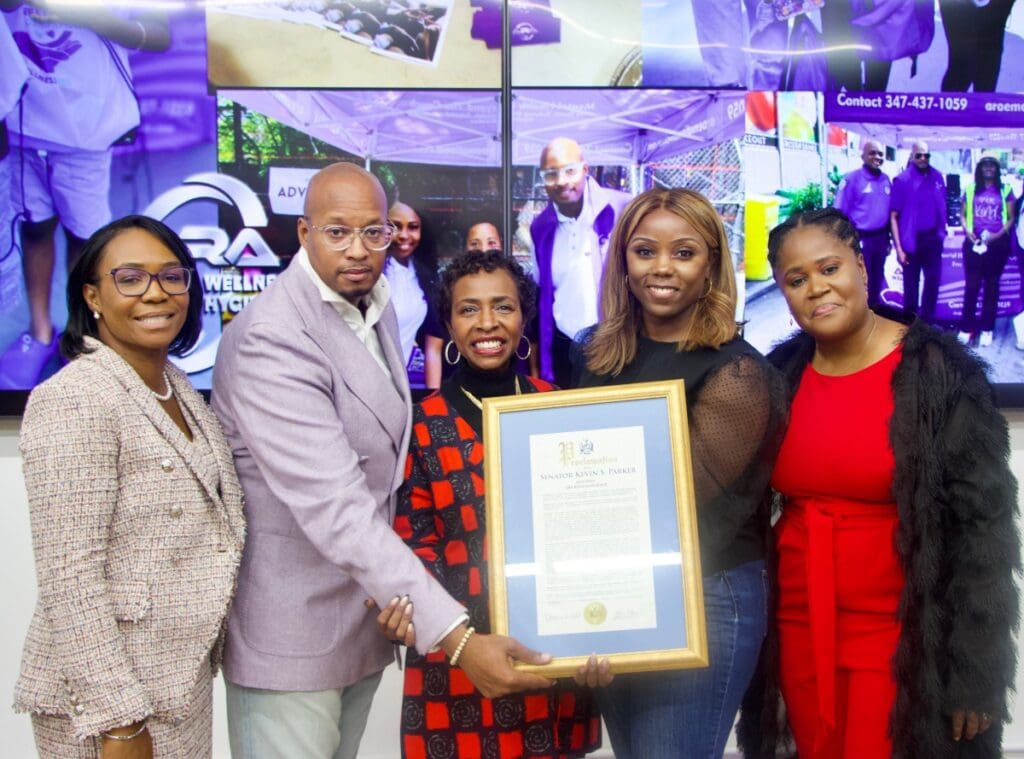 Lovely Pierre, Wife; ARA CEO/Founder Nicholson Sony Pierre; US Congresswoman Yvette Clarke; NYC Councilwoman Farah Louis; BKLYN Commons CEO Johanne Brierre
In celebration of Emotional Wellness Month, ARA Emotional Wellness & Mental Hygiene, one of New York City's leading, sustainable mental hygiene providers serving diverse and disadvantaged communities, hosted a ribbon cutting ceremony to celebrate the opening of its new, state of the art Wellness Space.
"I grew up being a very emotional child, through therapy I grew out of it," shared Nicholson Sony Pierre, ARA CEO & Founder. "Though I am a unique being, there are so many others with the same challenges. We look forward to helping them through their journey in feeling better."
Hosted by leading black male therapist Arron Muller, the festive affair included greetings from a wealth of clinicians, civic leaders, and mental health advocates. New York City Councilwoman Farah Louis, former chairs of the Mental Health Committee, was on hand to acknowledge the ARA Staff and leader Nicholson Sony Pierre for "answering the call. Over 1.6 million adults in New York City experience mental illness annually," shared Councilwoman Louis.
"This space is about creating a comfortable destination for wellness entrepreneurs to serve their clients. I look forward to seeing people walking around Flatbush Brooklyn being well and that is what this space is about."
On Behalf of New York State Senator Kevin Parker, City Councilwoman Louis later joined Johanne Brierre, BKLYN Commons CEO and founder of New York Beauty Suites in presenting CEO Sony Pierre and the ARA staff with a proclamation declaring Saturday, October 8, 2022, as ARA Emotional Wellness & Mental Hygiene Day. US Councilwoman Yvette Clarke was also present. The councilwoman thanked Founder/CEO Nicholson Sony Pierre for being a trailblazer.
"The work that you are doing is going to spread like wildfire," said Councilwoman Clarke. "It's critical in this time that we open ourselves to the need for therapeutic environments for our mental health and mental hygiene."
The new high tech, centrally located space, is housed at 495 Flatbush Avenue, Brooklyn, NY, 11225, and is part of BKLN Commons expansive business hub. ARA prides itself in eliminating the barriers caused by various social determinants of health (SDoH). Often the communities that need the most outreach in terms of mental health are overlooked because of the lack of resources they have. Not only does ARA understand these issues but they have created a variety of programs aimed to break these barriers. The organization looks forward to shattering the stigma surrounding mental health especially within urban communities through collaboration with other holistic leaders.
ARA Emotional Wellness and Mental Hygiene (ARA EW MH) is an innovative emotional wellness and mental hygiene practice with the essential goal of helping individuals feel better emotionally and mentally as they face life's challenges. The agency's objective is to strategize in Creating, Formulating and Utilizing innovative concepts to tackle the fight on mental health and emotional wellness.
About the Author



New York Trend is a weekly news publication that focuses on issues and lifestyles of the African & Caribbean American communities throughout the New York metropolitan area and Nassau and Suffolk Counties of Long Island. It is a respected and well recognized news publication that has been in existence since 1989. Owner, Publisher and Executive Director, Dr. Teresa Taylor Williams has been at the helm of this award-winning publication since its inception. New York Trend continues to be the only black woman-owned, metropolitan newspaper in New York and Long island. New York Trend is the largest black-owned newspaper throughout Nassau and Suffolk counties.