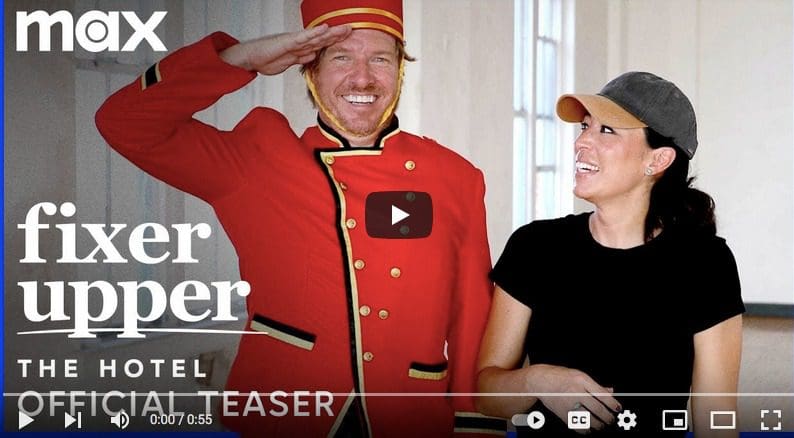 Magnolia Network today announced an all-new installment in the beloved "Fixer Upper" franchise, FIXER UPPER: THE HOTEL, to premiere this November. The forthcoming series documents Chip and Joanna Gaines's most ambitious project to date – renovating a historic building in downtown Waco to open Hotel 1928, a new boutique hotel just a few blocks from Magnolia Market at the Silos. In addition, the teaser trailer was revealed today exclusively during Warner Bros. Discovery's unveiling of the Max streaming service on the Warner Bros. lot in Los Angeles.
"For us, this project represents everything we are most passionate about — hospitality, restoration and home," said Chip and Joanna Gaines. "We've always been firm believers in the value of home, as a place but also as a feeling. Our dream for this hotel is that it would serve as an extension of home to every guest who comes to stay."
For this one-of-a-kind project, Chip and Jo will bring the former Grand Karem Shrine building back to life and turn it into the premiere hotel destination in Waco complete with four floors of 33 bespoke guest rooms, a restaurant, ballroom event space and a rooftop terrace. Produced by the Gaineses' production company Blind Nil, the six-episode, half-hour series culminates in the grand opening of the new hotel.
"Fans have been visiting Waco for years, but soon they will be able to do more than see a Fixer Upper – they can stay in one overnight!" said Allison Page, Global President of Magnolia Network and DTC. "With FIXER UPPER: THE HOTEL, we're pulling back the curtain on one of the biggest projects Chip and Jo have ever undertaken and giving viewers a first look at a unique and storied space that will help define downtown Waco for years to come."
Named after the year the building was originally constructed, Hotel 1928 is a partnership between Magnolia and Adventurous Journeys (AJ) Capital Partners, a transformative real estate firm founded by acting CEO Ben Weprin. AJ is known for the historic restoration of some of the most storied hotels across the US and UK, as well as the creation of hospitality platforms Graduate Hotels and Marine & Lawn Hotels & Resorts, among others.
Hotel 1928 is slated to open this October. For more information about event bookings, future room reservations and the latest news on the hotel, please visit www.thehotel1928.com.
About the Author



New York Trend is a weekly news publication that focuses on issues and lifestyles of the African & Caribbean American communities throughout the New York metropolitan area and Nassau and Suffolk Counties of Long Island. It is a respected and well recognized news publication that has been in existence since 1989. Owner, Publisher and Executive Director, Dr. Teresa Taylor Williams has been at the helm of this award-winning publication since its inception. New York Trend continues to be the only black woman-owned, metropolitan newspaper in New York and Long island. New York Trend is the largest black-owned newspaper throughout Nassau and Suffolk counties.