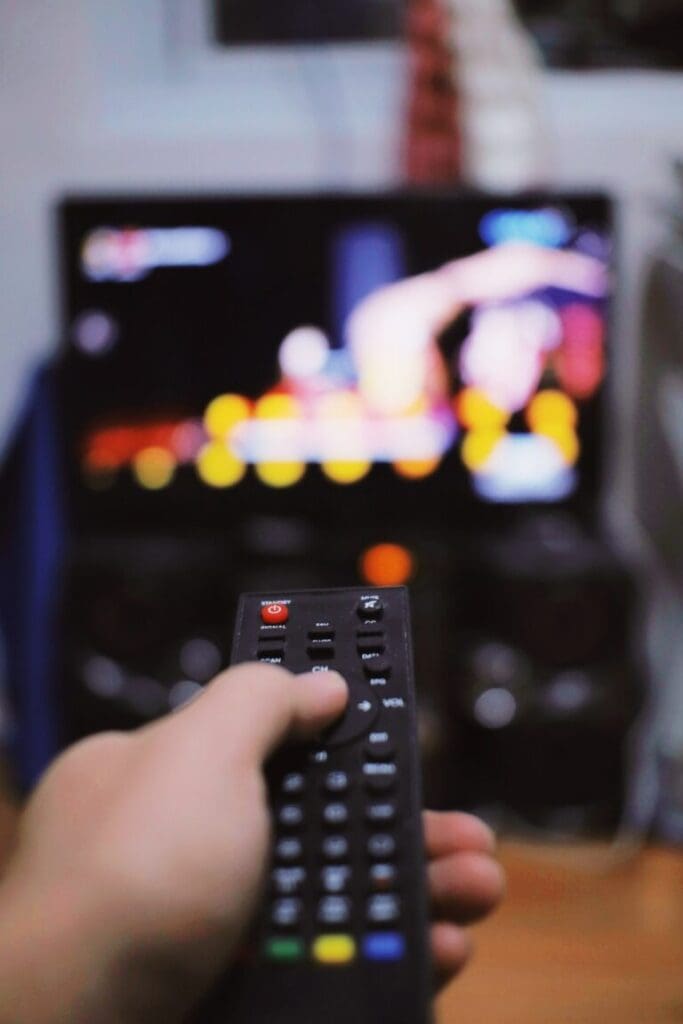 Photo by Nothing Ahead: https://www.pexels.com/photo/anonymous-person-with-tv-remote-7400908/
Warner Bros. Discovery introduced Max, its enhanced streaming service, which will launch in the U.S. on May 23. Max is the destination for HBO Originals, Warner Bros. films, Max Originals, the DC universe, the Wizarding World of Harry Potter, an expansive offering of kids content, and best-in-class programing across food, home, reality, lifestyle and documentaries from leading brands like HGTV, Food Network, Discovery Channel, TLC, ID and more. Max will stand out amongst streamers by uniquely combining unrivaled breadth and superior quality with iconic franchises and strong product experience, all for great value.

Introducing Max – the one to watch for every mood and every moment.

The event included a sneak peek at the launch campaign for Max, which kicks off tomorrow and celebrates the different moods, fandoms and genres that represent Max viewers. The campaign will invite new subscribers to experience Max's improved product experience and expanded content for everyone in the household.
"From the biggest superheroes to real life champions; from culture-shaping dramas to taste-shaping entertainment; from fantastical realms to the realest of worlds, Max will offer an unrivaled range of choice," said JB Perrette, President & CEO, Global Streaming & Games, Warner Bros. Discovery. "This new brand signals an important change from two narrower products, HBO Max and discovery+, to our broader content offering and consumer proposition. While each product offered something for some people, Max will have a broad array of quality choices for everybody."
https://www.youtube.com/watch?v=e8QnMipVP_o

SIGNING UP
Max will offer three pricing options, giving subscribers the choice to select which plan best fits the needs of their household.
Max Ad-Lite | $9.99/month or $99.99/year
2 concurrent streams, 1080p resolution, no offline downloads, 5.1 surround sound quality

Max Ad Free | $15.99/month or $149.99/year
2 concurrent streams, 1080 resolution, 30 offline downloads, 5.1 surround sound quality

Max Ultimate Ad Free | $19.99/month or $199.99/year
4 concurrent streams, up to 4K UHD resolution, 100 offline downloads, Dolby Atmos sound quality
Existing HBO Max subscribers will have access to Max at the same price as their HBO Max subscription and can visit http://help.hbomax.com/introducingMax to find out more. Additionally, HBO Max subscribers will still have access to their current plan features for a minimum of six months following launch. HBO Max subscribers' profiles, settings, watch history, "Continue Watching," and "My List" items will also migrate to Max so they can pick up streaming right where they left off.

CONTENT OFFERING
Max will bring HBO Max's can't-miss programming and Discovery+'s engaging real life entertainment content together to create a complete viewing experience for all ages. The service will feature a regular freshness of content with an average of more than 40 new titles and seasons every month. With a library of iconic favorites, Max will offer a world-class collection of globally recognized brands, franchises, series, and characters, making it a truly unprecedented offering. Audiences will be able to explore the iconic worlds of HBO, the DC Universe, and Harry Potter, plus hit movies, original series, and fan-favorite genres like true crime, reality, food, and comedy, all in one place.

"The Max service is a wide-ranging mosaic of content that will be unmatched in the breadth, reach, and excellence of its offerings," said Casey Bloys, Chairman and CEO, HBO and Max Content. "We are unique because we have the best-in-all-categories across the board by any measure – be they ratings, awards, fandom. We know we can satisfy any craving because we have the brands that people love. At Max, they will find what they want, when they want it."

Newly announced titles include a Max Original Harry Potter series, a faithful adaptation of the beloved original book series by J.K. Rowling, who will serve as executive producer; a Max Original comedy series derived from The Big Bang Theory; an HBO Original "Game of Thrones" prequel A Knight of the Seven Kingdoms: The Hedge Knight; a Max Original drama series based on The Conjuring films; Magnolia Network's Fixer Upper: The Hotel; Discovery Channel's Survive the Raft; Max Original Peter & the Wolf from Bono; Adult Swim's Rick and Morty: The Anime; Investigation Discovery's Lost Women of Highway 20; Cartoon Network's Tiny Toons Looniversity;and TLC's Love & Translation.

Max also provided first looks today at additional highly anticipated upcoming titles including Max Originals The Penguin starring Colin Farrell; HBO Original drama series The Sympathizer, an espionage thriller and cross-culture satire based on the Pulitzer Prize-winning novel of the same name; HBO Original limited series True Detective: Night Country starring Jodie Foster and Kali Reis; HBO Original limited series The Regime starring Academy Award®-winner Kate Winslet; Max Original six-part docuseries SmartLess: On The Road, following Jason Bateman, Will Arnett, and Sean Hayes as they take viewers on an exclusive behind-the-scenes look at the sold-out live tour of their podcast; and Max Original kids series Gremlins: Secrets of the Mogwai. In addition to Max original programming, a first look at HGTV's four-part Barbie Dreamhouse Challenge hosted by Ashley Graham, which will also be available to stream on Max, was shown during the presentation.
About the Author



New York Trend is a weekly news publication that focuses on issues and lifestyles of the African & Caribbean American communities throughout the New York metropolitan area and Nassau and Suffolk Counties of Long Island. It is a respected and well recognized news publication that has been in existence since 1989. Owner, Publisher and Executive Director, Dr. Teresa Taylor Williams has been at the helm of this award-winning publication since its inception. New York Trend continues to be the only black woman-owned, metropolitan newspaper in New York and Long island. New York Trend is the largest black-owned newspaper throughout Nassau and Suffolk counties.